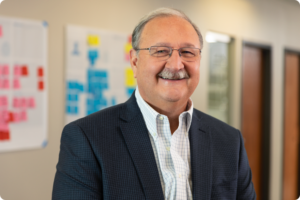 Christopher Schellhorn
CEO y presidente
Chris is CEO and chairman of Confirmation, has grown the company exponentially since his start in 2002, and is responsible for product diversification and expansion efforts. He is a highly experienced CEO and a proven operator with a successful background in online transaction processing businesses within the financial services industry. He has managed several software and technology businesses and has served on numerous Boards of both public and private companies.
Prior to Confirmation, Chris was the CEO of Integrion Financial Network in northern Virginia.  Integrion created the original online banking platform for the 18 largest banks in North America with VISA and IBM as partners, and under his leadership, Integrion increased its subscriber rates from less than 20,000 to more than 3.5 million Internet accounts with 30 million transactions per month.  
Prior to Integrion, Chris was brought in as the President and CEO of VISA Interactive, a wholly owned subsidiary of VISA International also located in Virginia.  His charge was to turn around the company and within 3 years Chris successfully led the company to break-even and grew the company to 500,000 subscribers with in excess of 10 million monthly transactions.  
As President and CEO of VISA Interactive, Chris directed the development of all VISA International distributed payment processing systems to be deployed worldwide and provided strategic direction to VISA International for all e-commerce initiatives.  During his tenure as President and CEO, Chris successfully negotiated the sale of VISA Interactive to Integrion. He also managed the technology platform that provided service to 75 financial institutions in the U.S., Europe and Latin America.
Chris received his MBA from the University of Rochester in 1979, and graduated from the College of the Holy Cross with a BA in Economics in 1973.